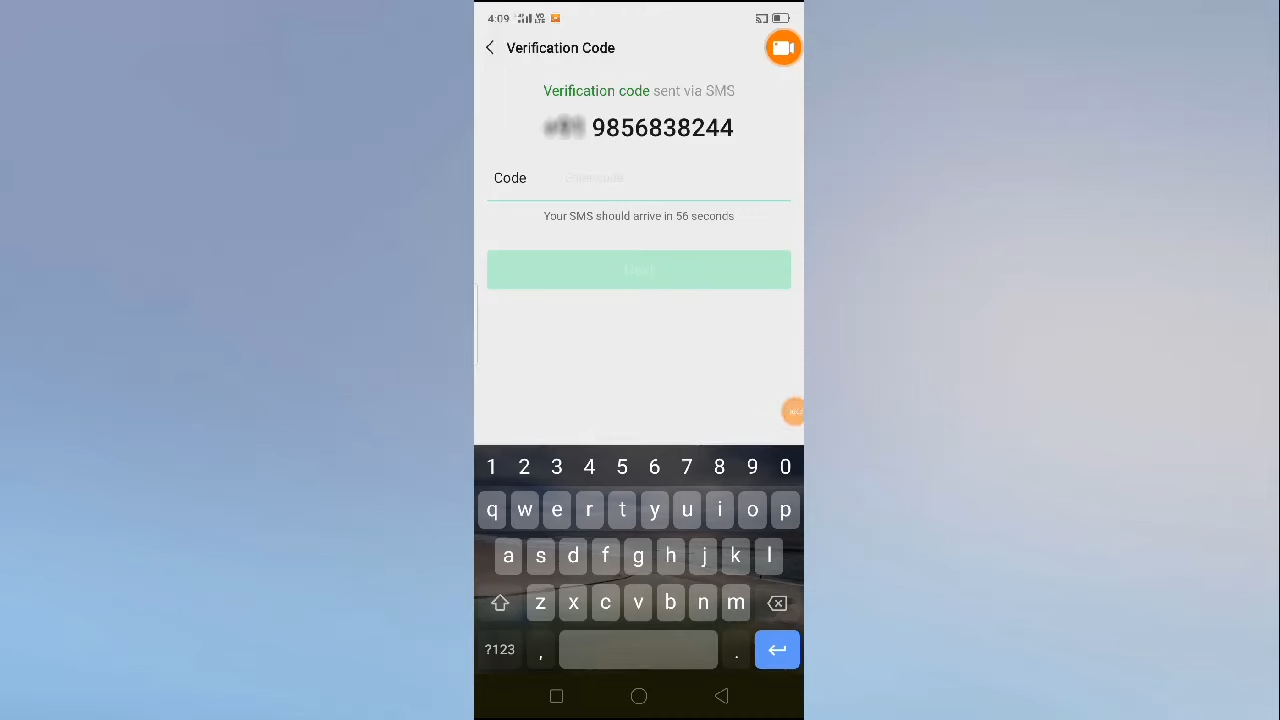 WeChat requires verifying your account first to fully enjoy everything that is the widely used messaging and social media platform.
You'll need the most recent version of WeChat to complete the process. Once you have done so, you may proceed with verifying your account.
It'll ask you for your phone number and enter a code received via SMS. After completing this step, your account will become verified, granting access to all of WeChat's features.
Let us facilitate this effortless process for you, letting you chat and interact seamlessly with loved ones and colleagues through WeChat.
How to Verify WeChat Account with SMS Verification: Steps-By-Step Guide
To verify your WeChat account with SMS verification, you'll need to follow these steps:
Step 1: Download and Install WeChat
Step 2: Launch WeChat and Begin Signup
Step 3: Choose Signup Method
Step 4: Enter Personal Details
Step 5: Enter Your Phone Number and Password
Step 6: Accept Terms and Conditions, and Privacy Policy
Step 7: Complete Security Verification
Step 8: Temporarily Disable the Internet Connection
Step 9: Turn on the Internet Connection and Close WeChat
Step 10: Receive and Enter the SMS Verification Code
Step 11: Repeat Signup Process without an Internet Connection
Step 12: Grant Permissions and Start Using WeChat
Let's examine the steps in more detail.
Step 1: Download and Install WeChat
Download and install WeChat from the official app store on your Android phone, ensure you have a stable internet connection before proceeding to the next step.
If you already have WeChat, make sure you've got the latest version. You can check for updates in the app store if necessary.
Step 2: Launch WeChat and Begin Signup
After successfully installing WeChat, open the app on your Android device and select your preferred language. Click on the 'Sign up' option to begin the account creation process with SMS Verification.
Step 3: Choose Signup Method
When you sign up, you'll see a few options to choose from. If you'd rather sign up with your mobile number, pick 'Sign up via Mobile'.
Step 4: Enter Personal Details
In this step, you need to provide personal details such as your name and profile photo, and select your region (country). To enter your personal details on WeChat, simply provide your name and upload a profile photo if you'd like.
Select your region accurately, as this information will be used for verification purposes. It's important to enter accurate information, so double-check everything before submitting.
Step 5: Enter Your Phone Number and Password
This vital step requires you to enter your mobile phone number. When entering your phone number, exclude any country or region codes and double-check for accuracy. You can choose to use either your own phone number or an online SMS code verification service that allows you to rent an online phone number.
As for the password, select one that is strong and unique to avoid any potential security breaches. Remember that this password will be used to log into your account, so it's important not to share it with others.
Step 6: Accept Terms and Conditions, and Privacy Policy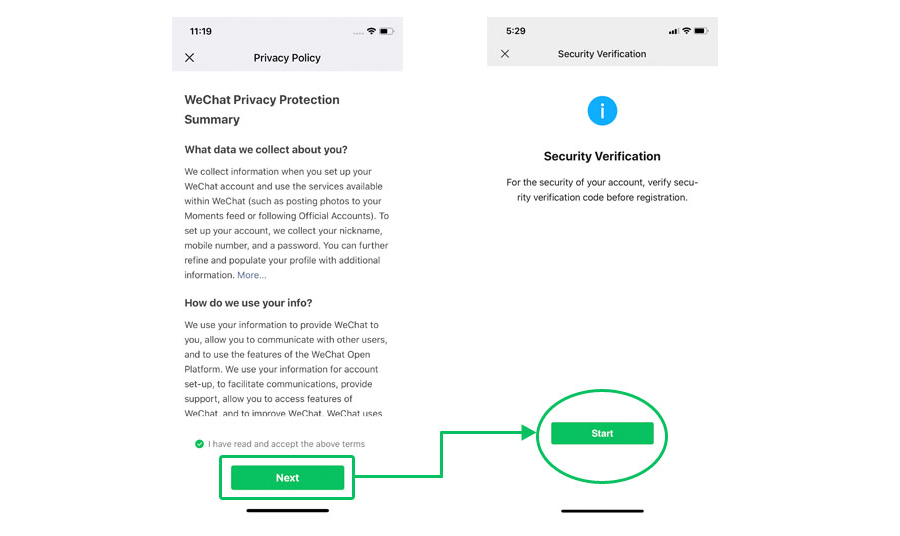 WeChat presents its terms and conditions to new users. Take your time to read through them and consider them before accepting to proceed.
After accepting the terms and conditions, WeChat presents its privacy policy, highlighting data collection and storage. Review the policy and accept it if it aligns with your privacy expectations.
Step 7: Complete Security Verification
To successfully create your WeChat account, you'll need to slide the verification slider to the correct position, ensuring you're not a robot and ready to start exploring all of WeChat's features.
This security verification step is essential in preventing automated signups and maintaining the safety of WeChat users.
Once you reach this step in the signup process, follow the on-screen instructions carefully and drag the slider to its designated position.
Step 8: Temporarily Disable the Internet Connection
Once you've completed the security verification step in creating your WeChat account, disabling your internet connection immediately is important.
This is because after verifying your identity, WeChat will send a text message with a verification code to the phone number you provided.
If you do not quickly disconnect from the internet and enter the code within a certain time frame, then the verification process may fail and you will have to start over again.
Step 9: Turn on the Internet Connection and Close WeChat
After disabling your internet connection, turn it back on and click on the 'Close' button. This is crucial to bypassing the QR code verification and completing the WeChat account creation process.
Once you have re-enable your internet connection, return to the WeChat app. Click on 'Close' to exit the app completely before reopening it. This step will ensure that you are able to complete the SMS verification process without being prompted for a QR code again.
Step 10: Receive and Enter the SMS Verification Code
Now that you've turned on your internet connection and closed the WeChat app, wait for the SMS containing the verification code.
Keep your phone nearby. WeChat will send a verification code to the mobile phone number you provided earlier.
Once you receive the SMS verification code, enter it into the designated field within the WeChat app.
Step 11: Repeat Signup Process without an Internet Connection
To fully authenticate your account on WeChat, you must redo the signup process while keeping your internet connection turned on.
This means following the same steps as before, including security verification by correctly dragging the slider.
Once completed, WeChat will prompt you for an SMS verification code which you'll need to enter accurately to validate your account.
Step 12: Grant Permissions and Start Using WeChat
Once you successfully verify your WeChat account with SMS verification, grant necessary permissions to the app, such as access to your camera, microphone, and contacts.
This enables you to start using WeChat fully. Enjoy seamless communication with others within your network.
Experience Seamless Messaging and Networking on WeChat
Verifying your WeChat account using SMS verification is a straightforward process that allows you to gain access to the features and functionalities of the platform.
You can successfully create and verify your WeChat account by following the above steps.
Remember to provide accurate personal information, complete the security verification, and correctly enter the SMS verification code.
Once your account is verified, you can explore WeChat, connect with friends, family, and colleagues, and enjoy the app's various communication and social features. Ensure that you grant the necessary permissions and take steps to protect your account's security. Now you're ready to dive into the world of WeChat and experience seamless messaging and networking with others.