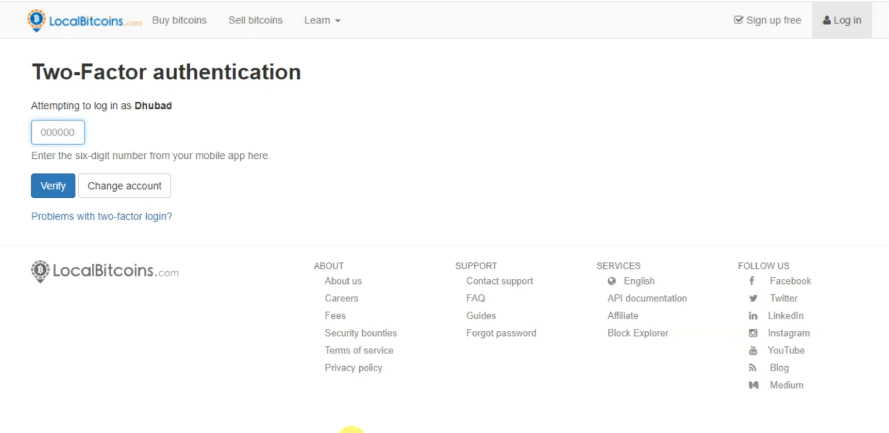 Before you start buying or selling Bitcoin on LocalBitcoins, verifying your account is vital to avoid the risk of being suspended or, even worse, hacked. Luckily, this can be easily completed by verifying your phone number through SMS verification.
The process is streamlined and fuss-free, ensuring you can get started immediately. To verify your LocalBitcoins account with SMS verification, simply provide your phone number on the verification page and wait for the SMS code. Once you receive it, enter the code and you're done.
Completing this process will allow you to access all the features of LocalBitcoins and start confidently trading Bitcoin. Alright, let's dive into the details of how this all works.
Steps to Verify Your LocalBitcoins Account Through SMS Verification
Discover the procedure for verifying your LocalBitcoins account using sms verification. Follow these simple steps:
Step #1: Log In to Your LocalBitcoins Account
To begin the process of verifying your LocalBitcoins account, logging in to the website is the first step.
For this purpose, you need to navigate to the LocalBitcoins website and click on the 'Login' button at the top right corner of the page.
Once you've clicked on this button, a new window will pop up, prompting you for your username and password. After typing in your credentials, hit 'Login' and you will be redirected to your account's dashboard.
From here, you can proceed with further verification steps necessary for trading Bitcoin through LocalBitcoins.
Step #2: Go to the Profile Icon
Navigate to the top right corner of your account dashboard and click on the profile icon to reveal a drop-down menu with various options.
This menu includes information related to your account settings. On this page, you can select SMS verification to verify your LocalBitcoins account.
Step #3: Go to Edit Profile
Accessing the 'Edit Profile' option from the drop-down menu will lead to an account profile page. Users can view and edit their personal information on this page, including username, email address, and other account settings.
Also, users can verify their accounts with SMS verification to increase security. By verifying their phone number on the platform, users can protect their accounts by enabling two-factor authentication for added safety measures.
Step #4: Click on Verify Phone Number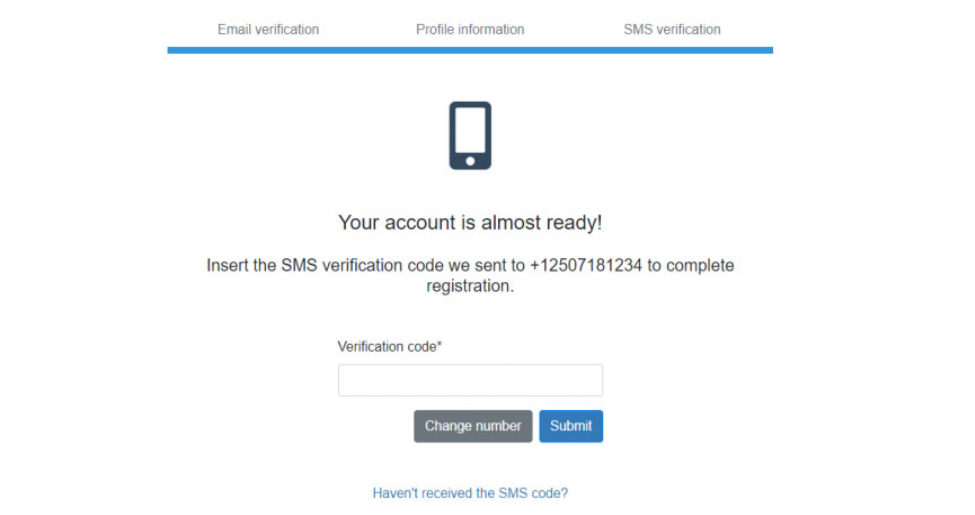 Clicking the 'Verify Phone Number' link will direct users to the verification page. This verification page provides an easy way for users to verify their LocalBitcoins account with SMS.
After clicking on the 'Verify Phone Number' link, you are presented with a form that asks for their phone number and country of residence.
Step #5: Add Your Phone Number and Submit
On the verification page, you will see a box in which to enter your personal phone number.
To verify your LocalBitcoins account, you also have the option to use an online SMS verification service such as SMSVerification.xyz, which is a reputable provider.
To use this service, you must first create an account on the site and deposit your funds. Then, you can select an online phone number.
Once you have entered the correct phone number, click on the 'Submit' button to confirm. The system will then send an SMS message containing a unique code that must be entered into the field provided on the page. This code is only valid for a few minutes, so enter it quickly before it expires.
Step #6: Enter the Verification Code
Now check your SMS inbox for a text message containing a code you have to enter to authenticate your account.
After entering the code, you should click on the 'Verify' button to confirm that they are indeed the owner of this account. Once verified, you can start Bitcoin trading immediately.
How do I use the backup code to re-activate two-factor authentication on my LocalBitcoins account?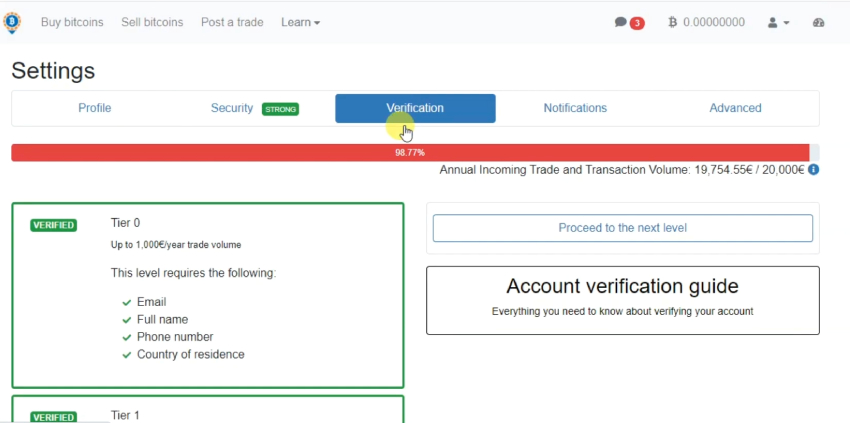 To ensure the security of your account, re-activating two-factor authentication using a backup code is a simple and effective way to protect your data.
To re-activate two-factor authentication (2FA) on LocalBitcoins, install and open the Google Authenticator app on your mobile device, select 'Begin setup,' and then choose 'Enter a provided key.'
Enter 'LocalBitcoins' as the account name and your backup code in the field labeled Key. Leave the dropdown as 'Time-based' and press 'add' to complete the process.
This will allow you to access your account with an additional layer of security using two-factor authentication. Also, if you ever forget or lose your backup code, you can always reset it from within the LocalBitcoins website settings page.
How long does LocalBitcoin verification take?
The average wait time for LocalBitcoins' ID verification process is 1-3 days. But, you need to note that in some cases, the verification process may take longer than the average time frame. It is advisable to be patient and allow for additional time if needed.
Submitting high-resolution and unedited pictures of a valid supported document is crucial during verification.
The specific list of supported documents may vary depending on the country. It is recommended to refer to the provided list for your country to ensure you submit the appropriate documentation.
You need to understand that LocalBitcoins does not process ID verification manually. Therefore, the process is likely to be automated.
If you encounter difficulties and fail verification multiple times, contacting LocalBitcoins through the provided form is recommended. They can provide more precise instructions or further assistance.
Verify the LocalBitcoins Account with SMS: Quick, Easy, and Secure
The verification process of a LocalBitcoins account via SMS is simple and straightforward. You need to provide your phone number, followed by the confirmation code which is sent to you.
After providing this information correctly, your account will be verified and you can continue trading on the platform. Also, you can re-activate two-factor authentication if you have a backup code in case their original verification method fails. This process ensures that all users of LocalBitcoins are verified and authenticated before being able to access the platform. Thus, verifying an account on LocalBitcoins with SMS is quick and easy while adding an extra layer of security for its users.